Taking care of your braces is not as complicated as it seems. When the braces are first fixed to your teeth, the list of ways you need to take care of your teeth will feel overwhelming. The good news is that taking care of braces breaks down into two basic categories of care: proper dental hygiene and diet discipline.
DENTAL HYGIENE
Dental hygiene is especially important. That quick pass of your teeth that you used to do is no longer going to work. Now you need to brush, floss, and use a mouth rinse every night (a water pik is also helpful). The reason you need to step up your dental hygiene routine is that your braces greatly weaken your teeth. Because the teeth are moving, they aren't getting as many of the nutrients they normally get from your jaw and the tissues that surround the roots of your teeth. The glue holding the braces in place also eats away at the enamel of your teeth. Make sure that you follow the dental care routine suggested by your orthodontist. Flossing is going to be awkward and brushing is going to take a little bit longer, but in the end it will be worth it.
Brushing And Flossing Around Dental Braces
With braces, oral hygiene is more important than ever. That's because braces have tiny spaces where food particles and plaque get trapped, and insufficient cleaning while wearing braces can cause enamel staining and tooth decay around brackets or bands.
Be sure to brush carefully after every meal with fluoride toothpaste and a soft-bristled toothbrush. Rinse thoroughly and check your teeth in the mirror to make sure they're clean. Take time to floss between braces and under wires with the help of a floss threader. Additionally, visit the dentist to have your teeth cleaned every six months to keep your gums and teeth healthy.
Braces Care Guidelines
The following routine will help make daily brushing and flossing both simple and effective.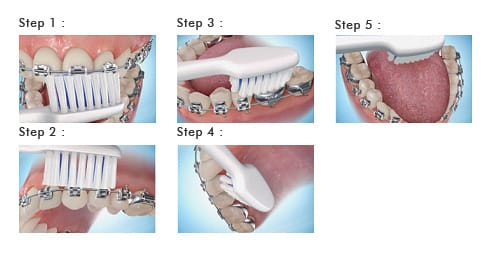 Prepare to brush. Take off elastics, and any other removable parts of your orthodontic appliance.
Clean your braces. Use your brush at a 45-degree angle to clean around the wires and pins of your braces. Brush from the top of each wire and then from the bottom. (Take time to ensure that all plaque and debris are removed, and that you work all the way around upper and lower teeth.)
Brush your teeth. Clean each tooth individually. First, place your brush at a 45-degree angle to the junction between the tooth and the gum, then apply gentle pressure as you move in a circular motion. Do this for about 10 seconds. Use the same brushing action on all outer and inner tooth surfaces, tilting the brush as needed to better reach the insides of smaller front teeth.
Floss once a day with super floss, a type of floss for cleaning around appliances such as braces. Have your dental professional show you how to use this floss, or follow the instructions on the product package.
Rinse and check your teeth. Rinse thoroughly with water or mouth rinse, and examine your teeth and braces in the mirror. They should sparkle, shine and feel clean.
Frequency of Brushing:
Brush at least four to five times a day following this schedule:
As soon as you wake up, brush really well (at least four minutes).  Plaque has had all night to build up on your teeth. Do this before you get dressed or eat breakfast so you won't be rushed.
After breakfast, give a quick brush. This is to remove breakfast from your teeth.
After school, brush really well again. Plaque has been sitting on your teeth since the morning
After dinner, another quickie.
Before you go to bed, scrub 'em good. Now is the time to floss if you want to.
Always remember to not only brush your teeth, but your gums and tongue too!!!  Poorly cleaned gums are just as bad as poorly cleaned teeth.  They will become puffy, red, and have a tendency to bleed.  So, attend to your gums during every brushing session.
The schedule we have suggested takes very little time.  Keeping your teeth and gums well cleaned will eliminate bad breath, puffy and unhealthy gums, damage to your teeth, and will speed up the removal of your braces.
How to floss
Flossing With Braces: Misconception
Many children and teens (and some adults) don't know how to floss with braces. Or they think that they can't floss at all if they have braces. But that's not the case. In fact, daily flossing is especially important during the time that you wear braces because you're more likely to have food particles trapped in the braces, bands and wires, which could increase your risk of a cavity if the food contains carbohydrates (sugars).
Time Matters
Be prepared to spend three times as long on your oral care while you have braces on your teeth. Don't worry, it's worth the time-if you don't pay attention to oral hygiene while your teeth are being realigned, you increase your risk of gum disease. Plus, it can help your teeth look that much better when it's finally time to get your braces removed.
Steps To Follow When Flossing With Braces

Although flossing with braces is tricky, you can get the hang of it with practice if you follow these steps:
Use waxed floss (unwaxed floss is more likely to get caught and shred in your braces), dental tape or a product specifically designed to clean around your braces, like the Oral-B® Orthodontic Brush
Use enough. About 18 inches of floss should suffice
Thread it carefully. Take the floss and carefully thread it under the main wire of the braces before passing it between two teeth. Then remove the floss and re-thread it under the main wire to pass between the next pair of teeth
Be sure not to snap the floss-simply move it up and down gently against the side of each tooth
Parents: Do the flossing for younger children who lack the coordination to thread the floss under the main wire of their braces.
Waterpik® Water Flosser
Water Pik, Inc. invented the water flosser (also knows as a dental water jet or oral irrigator) in 1962. For nearly 50 years, we've been a leader in developing and manufacturing innovative personal and oral healthcare products for the entire family.

Our Mission: To be your first choice for innovative, stylish, high-value products that enhance health and wellness while supporting sustainability

We highly recommend using a Waterpik to loosen food particles and plaque before flossing and brushing. Use the Waterpik on the lower water pressure settings so the gum tissue does not become excessively irritated. It is important to note that the use of a Waterpik does not replace the need to brush and floss regularly.
Innovation
With a strong foundation of innovation, we continually stay in touch with customers to anticipate their needs in product design and health issues. We continue to incorporate the needs of dentists and hygienists in new product designs. As a result, new products continue to reflect higher quality, improved oral health benefits, and greater ease of use.
Need for Better Oral Care
Gum disease is a serious chronic problem that causes bad breath and tooth loss. Gum disease has also been connected with other systemic diseases such as heart disease, diabetes, and low birth weight babies.
The good news is Waterpik® Water Flossers can help you keep your gums healthy and strong. The Waterpik® Water Flosser is clinically proven to be twice as effective as traditional string floss for improving gum health, plus it's easy and pleasant to use. In just one minute per day, you'll be on your way to excellent oral health and the cleanest, freshest mouth possible.
A BRACES FRIENDLY DIET
There will be some foods that are frowned upon and some foods that are completely forbidden. The orthodontist makes these recommendations for a reason. The brackets and wires that are moving your teeth are not invincible. They can be damaged by food. In addition to avoiding foods that might cause damage to your teeth and braces, there are also foods that you will want to eat more often, to enhance the health of your teeth and gums as well as to ease the tension in your mouth as your devices move your teeth around.
Your Braces' Biggest Enemies
Hard Foods:

Popcorn

Hard candy

Nuts , Peanut brittle

Ice cubes

Candied apples

Hard chips

Sticky Foods:

Chewing gum

Gummy bears

Fruit Roll-ups

Caramels

Taffy

Starburst

Bit-O-Honeys

Milk Duds

Be careful with these foods:

Hard French bread - tear into small pieces

Apples - cut into slices instead of biting from
the whole apple

Carrots - grate or cut into tiny pieces

Other Orthodontic "No-No's":

Biting your lip

Biting your fingernails

Chewing on pencils or pens

Pushing your tongue against your teeth

Tearing things with your teeth
Foods to Embrace
Your teeth love vitamin C, calcium and magnesium. The best place to get these vitamins and minerals is from dairy products, leafy greens (though you will want to take care that the greens don't get stuck in your braces), citrus fruits, brown rice and lentils. Everybody knows that drinking milk makes your bones stronger. It also makes your teeth and gums stronger as well. Make sure to eat a healthy diet that is rich in these vitamins and minerals.
ORTHODONTIC EMERGENCIES AND WHAT TO DO
True orthodontic emergencies are very rare, but when they do occur we are available to you. As a general rule, you should call the office when you experience severe pain or when you have a painful appliance problem that you can't take care of yourself. We'll be able to schedule an appointment to resolve the problem. Problems can occur during your orthodontic treatment. You may be able to solve them, temporarily, by yourself until your regularly scheduled appointment.
Problem
Temporary Solution
Loose band or bracket
If still attached to the wire, leave in place. If uncomfortable, place wax on it.
Loose Wire
Try to place wire back in place with tweezers. If that is not possible, clip wire behind last tooth to which it is securely attached using clean nail clippers. If uncomfortable, place wax on it.
Poking Wire
Try to push sticking wire down with an eraser or spoon. If not possible, place wax on it.
Lost Elastic or Metal Tie
Notify us at next appointment.
Headgear Does Not Fit
Call office during business hours to schedule an appointment to see the doctor.
Soreness

When you get your braces on, you may feel general soreness in your mouth and teeth may be tender to biting pressures for three to five days. Take Advil or Tylenol as prescribed. Warm salt water rinses may help as well.

The lips, cheeks and tongue may also become irritated for one to two weeks as they toughen and become accustomed to the surface of the braces

Loose Appliances
If sticking or poking into gums, place wax on it.
If you feel you are unable to handle a problem on your own, please call us as soon as possible. Remember, absolutely no chewing gum, sticky foods or hard foods. Avoid chewing on pens, pencils and fingernails as well.